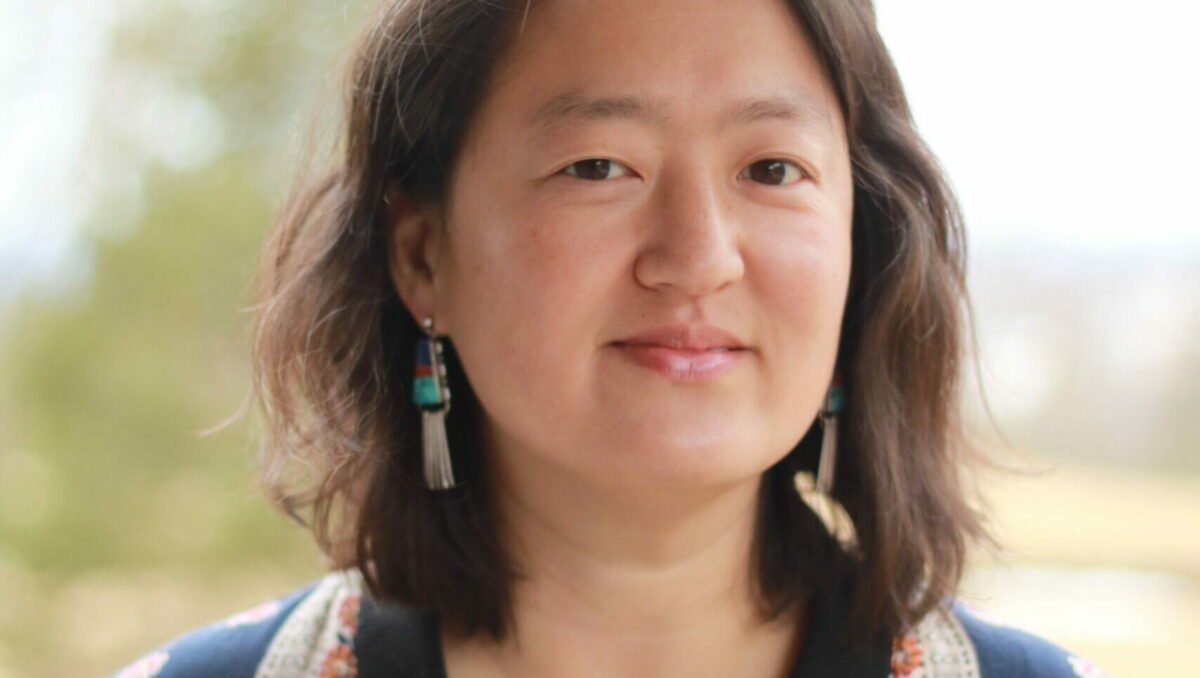 Sarah Audsley is a Korean American poet from rural Vermont. A graduate of the MFA Program for Writers at Warren Wilson College, her debut book of poetry Landlock X (Texas Review Press, 2023) explores the intricacies of being an adoptee not only through the textures of language but also visual arts crafts, such as collage. Deeply pastoral, and with the sense of the handmade, her poems aim to unstitch ideas of identity and what it means to be American today.
---
FWR: I'd like to begin by asking if you could talk about the use of the x symbol in your poems. Throughout the book it's used to stand for an unknown variable, but also signals the X chromosome, multiplication, reincarnation, and erasure and absence, as well as the speaker herself. Can you tell me a little about where you got this idea from, and how it developed throughout the process of writing the book?
Sarah Audsley: Yes, the symbol "X" is doing a lot of work in the book. The manuscript went through several revisions and through that process I realized I needed (and wanted) a thread that connected the poems across the three sections. The concept of being a landlocked person, someone who is separated from and not touching water, or, in the case of the adoptee, separated from their origins, came to me and then it all clicked into place. The "X", as you mentioned, is many things, but I also wanted to consider all the variables that make up a life, in particular, all the (un)known variables (and therefore consequences) of adoption. In the revision process, I was guided by two of the earliest poems in the collection: 'When My Mother Returns as X" and 'Origins & Forms: Eight Sijos.' I think it's remarkable how the writer can only see the breadcrumbs she's already written for herself after some distance and perspective. So, all I can really say is that I followed the trail I'd left for myself.
FWR: Mathematics in general is also a recurring motif in the book, especially in the poems 'Origins & Forms: Eight Sijos' and 'Continuum'. Can you tell me more about your interest in math?
Sarah Audsley: Mathematics does recur throughout the collection, which I think is spurred on, partly, by the symbol "X." Honestly, I am pretty horrible at math, which may be why, in poems, I'm interested in the field of study purely from a theoretical standpoint. I am also thinking about how the speaker of the poems is one adoptee among so many. Numbers are only able to tell one kind of narrative. How do we calculate our decision making? How do we face the totality of so many relinquished and exported children? The last sentence– "I am all those mathematical distances"–in 'Origins & Forms: Eight Sijos" somehow, in the context of the adoptee narrative, makes sense to me. Finally, I think the subconscious and the poet's obsessions with certain ideas, is how themes like mathematics recur; it's really not an overtly conscious process.
FWR: I loved how many of your poems incorporated the color yellow – as a woman of color I love writing about color! – but in particular I loved how you reclaimed the color from its racial connotations, such as in the poems 'It Was a Yellow Light' and 'Broken Palette :: a retrospective in panels'. Could you talk more about your intentions around this?
Sarah Audsley: Yes, the color yellow is featured prominently in the collection and becomes one of the important threads throughout. "Crown of Yellow", a poem early in the collection, was an important poem and began my exploration of the color yellow. I leaned into exploring the ways the color yellow recurred in my memory bank. I also did some research on its historical use and picked up art books on color theory. I am glad the reclamation of the color yellow resonated with you. As an Asian American, it is an important color to consider. I wanted to explore "yellow" not just in a racial context (which is so important), but also in art and culture, and to also mine my own memories and associations with the color.
FWR: You're also a self-described rural poet. How would you say place and/or the pastoral influence your writing?
Sarah Audsley: "The rural poet" seems like it is in contention with "the city poet." For me, maybe it is! Because, for me, place and my connection to place is essential. I enjoy visiting cities and being an interloper in city life, but I will always choose to live in a rural place. Walking my dog three times a day, cross country skiing in the winter, and hiking in the mountains in the summer, offsets all the daily computer grind. I like to think, too, that it feeds the work. To put it in another way, I'm a better poet if I've spent some time outside noticing and moving in the woods. The natural world offers me a sense of belonging. So, of course, this will appear in the poems. As for the pastoral poetry tradition, two poets and influences come to mind: Vievee Francis and the "anti-pastoral" poems in Forest Primeval, and Jennifer Chang's Bread Loaf Lecture, "Other Pastorals: Writing Race and Place" (June 2019, available here.)
FWR: One of the major threads throughout the collection is the narrative of the speaker as a Korean American adoptee in search of her birth family. The quietly devastating 'On Meeting My Biological Father' is contrasted with poems on the possibility of meeting a half-sister, and meditations on the speaker's deceased birth mother. While the process of searching for a birth family as an adoptee must understandably be a difficult and complex one, the book ends on a positive note with the speaker contemplating her mother's reincarnation. What was the process of writing these poems like for you and where do you sit now with your relationship to your birth family?
Sarah Audsley: I am grateful for the opportunity to write and to think deeply about adoption (my own) and how it is situated within the larger adoption industrial complex. My relationship to adoption, and my birth family, and the term 'family,' in general, is not fixed in any way. Instead, I think it will continue to evolve and change over time. Landlock X is just one attempt at grappling with it all. I hope the collection adds to the ongoing conversation around adoption, and I'm pleased to offer it as one more voice contributing to adoptee poetics. (Check out The Starlings Collective.)
FWR: It's clear that visual arts is a large part of your practice, as the book is scattered with many photos and documents in English and Korean associated with your adoption process, such as the average measurements for Korean children, or advice on creating cross stitches to 'celebrate your Korean American culture.' In response you've altered these texts with additional text or drawings or photos to create a kind of documentary collage. Can you talk a bit about how art inspires your poetry and your process around it? Are there any multidisciplinary artists in particular who inspired you?

Sarah Audsley: The visual components in Landlock X are important to the overall conception of the project, but they came later in the manuscript's evolution. (I very much feel like I dabble in the visual arts and have not achieved any sort of mastery in that field.) As I was revising the manuscript, I turned towards collage, which makes sense to me as a way to access and interrogate texts through visual elements. The visual components (visopo or visual poetry) provided a way to examine and interrogate my adoption records in a new way that the traditional lyric and narrative poems could not. (Sometimes we just don't have the words. Sometimes the image functions louder than the words. Then, the combination of the two creates a new alchemy. Here, I am still experimenting, and that feels freeing.)
In many ways, these files and records of my adoption are one form of my inheritance. I think of the collages as a transformation and reclamation of that inheritance. My parents diligently kept an archive of my adoption records and associated paperwork in file folders in a filing cabinet in the basement of our house. Working with them was a natural evolution in the writing process. The collages in Landlock X complete the overall vision for the book, and I'm grateful that Texas Review Press included them. Some influences and books that inspire me (some for their inventive use of text and image): Cleave by Tiana Nobile, Hour of the Ox by Marci Calabretta Cancio-Bello, Ghost of by Diana Khoi Nguyen, Litany for the Long Moment by Mary-Kim Arnold, Dictee by Theresa Hak Kyung, Olio by Tyehimba Jess, and many more. (One more thing: adoption records are not always reliable or accessible, and in some cases they do not exist at all.)
FWR: One of the biggest nods you give to your love of ekphrasis is the structure of the book, which is divided into three sections — one for each of the words of the ekphrastic poem 'Field Dress Portal,' which you wrote in response to a friend's painting. Can you tell me more about this collaboration and why you chose to structure the book this way?
Sarah Audsley: 'Field Dress Portal' is an important poem for me. Structurally, I wanted the collection to hinge on that poem, which is why it appears about half-way. 'Field' represents all the nature elements and the interrogation of the pastoral mode that recurs throughout. 'Dress' represents performative actions, costumes, exteriors, looking at something at face value, etc. 'Portal' represents transformation, metaphor, moving beyond this reality into another…So, these section titles provided structure and also each carried, in my mind, their own meanings. They also function like a triptych, which I really like, and they also helped me sequence the manuscript and to place the three erasures.
The poem uses the painting 'Field Dress' by Lauren Woods as a jumping off point. I watched the painting change over time as the painter posted images on social media and I was enamored. We've never met. We've only exchanged a few notes here and there when the poem was published in the New England Review. The ekphrasis mode feels challenging. It also makes sense to me as a way to engage with art, and to practice seeing and describing. It is another way to connect beyond the self. However, what fascinates me is how the selective process of describing actually reveals something of the speaker's inner workings, their perceptions. In this way, ekphrasis as litmus test, is another way into the mind of the speaker of the poem, and, also, into the mind and heart of the poet.