THREE POEMS by Mónica Gomery
/
Monday, 14 November 2022
/
Published in
ISSUE 25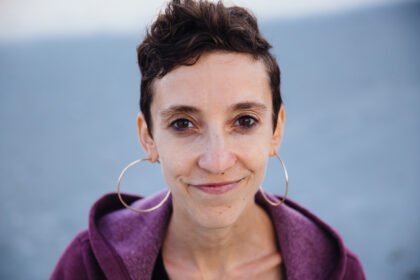 CONSIDER THE WOMB
With lines from Ewa Chrusciel, Nicole W. Lee, and the Babylonian Talmud
Consider womb as a bird.
Uterine lining lifting a wing as it rots the pink walls.
Consider womb as a flickering candle.
There has to be somewhere from where words are born.
If they're born, do we mother them?
I'm not sure if I mother the words, or if they mother me.
I want to push books from my cervix.
Consider levies and dams can't contain the red mind of the storm.
Consider sex as a contract between two menstrual parties.
I dream of our daughter a fourth night. Now she is learning to speak.
There are words born from her too. From her nonexistence.
Consider blood loves its own wickedness.
Blood turns new wine sour. Blood barrens a crop.
Blood clouds the mirrors and blunts the knife blades.
Consider milk is forbidden to the bleeding.
Consider that those who bleed are not only women.
Bees fall victim to the odor of menses, drop from their hives.
Iron and bronze become groggy and rust-eyed in the presence of matter discharged from the uterus.
Consider a place where the unbirthed babies live out their days.
It might be better than this savage world.
As a result of sexual pollution, a man vomits persistently.
As a result of childlessness, a woman becomes a goat.
Fecundity, what is it? Vault, octopus, womb.
Thesaurus: a place that births words.
On Thesaurus.com, womb can mean: hollow or void; chasm or cavity.
For God's sake, it can mean hiatus, or tabula rasa.
Interior, viscera, matrix, or source.
Uterus, incubator, ink blot scribed by goat mothers.
Consider guilt as a womb. Consider the red badge of shame.
Even my brother says to me, I can't help feeling medeival about it–– the end of our line.
In my tradition, sexual abstinence flows after blood.
In Hebrew, dam is one half of the word for adam: human being.
Maybe, as the child of immigrant children of immigrants, womb is the forgotten country.
Or, the forged country.
Sangre in Spanish from Latin: sanguen, meaning ruddy, or optimistic.
Maybe I'm considering not having a child so I'll always have something to write about.
Words born from the womb of the mind.
After we've all read Mary Douglas.
After reading Nicole: If earth is female,
and we return to the dirt,
is death a mother?
Consider fecundity as the persistence of question.
The question:
What is a womb?
Opal, birthstone of October, feels like a womb.
Glittered and dense, but clear like the ocean.
Ocean, birthplace of sentience, feels like a womb.
Bellied and blue, and delivering mystery.
Miriam, prophetess, her fingers making a pilgrimage through my hair.
Through the hairs of song that slip from my throat.
Torah is silent about both her marriage and children.
She gave birth to singing, crossing a sea in the desert.
Was it enough?
Consider womb as a song.
Consider a prophetess. Her mouth open.
Leading her people to freedom.
DEATH IN SPRING
Death in spring.
Mutinous birds.
The message
comes first thing
in the morning. Gall
of the jaundicing
sun, rising sky.
Quiet. Car engines.
Wisecrack
of your blue
hair. Lamplight
of you. Death
in spring. Trees
everywhere losing
control, inky
knuckles, pink lace.
Trees unbutton
brown coats, green
sequins revealed.
Cracked bowl
of you leaking.
Death in spring.
Wind readying
to collect you
as you drip
away. God
with you some-
where, beyond
the language
spring speaks.
All the questions
you've asked
about God,
with you now
in the place
beyond what
the birds know.
And us, saying
your name
in the morning.
Saying your name
and the birds say
your name.
And the quiet
creates a blank
line. We sign
your name
to it. Memories
of you, wiping
your eyes
with the
stars.



AFTER THE WEDDING

I fold my limbs onto the moss
of a rock, left plain in the forest,
big as two of me, spooning.
The sunlight aurous and hazel, filters in
through hundreds of limbs, every spore,
every stone of the woods
rung and lucent.
I married this forest. I married
the strip of highway you loved
to jog when you were a teenager.
I married the blue bowl of the sky
and I married the shred of ache
at the heart of the world, where mass
shooters and abortion clinicians
have been hurling themselves
to the gate. Unsearching a wall.
Where all this pain and light
drain from, and towards.
I'm sorry, I say
to the trees, inhaling
the gold of the forest.
I'm so sorry.
I think I'm not
having a child.
A thrum, the trees
crystalline, limby. They inhale
and exhale, sway softer
than Sundays.
A ladybug crashes
into my knee.
I am small.
Drinking the trees'
breath. Married
to everything.