Annie Kim is the author of Into the Cyclorama, winner of the Michael Waters Poetry Prize and a 2017 Best Indie Books of the Year selection by Kirkus Reviews. Her poems have appeared in Kenyon Review, Ninth Letter, Pleiades, Mudlark, Crab Orchard Review, and elsewhere. A graduate of Warren Wilson's MFA Program, Kim is the recipient of residencies from the Virginia Center for Creative Arts and the Hambidge Center. She serves as an editor for DMQ Review and works at the University of Virginia School of Law as the Assistant Dean for Public Service.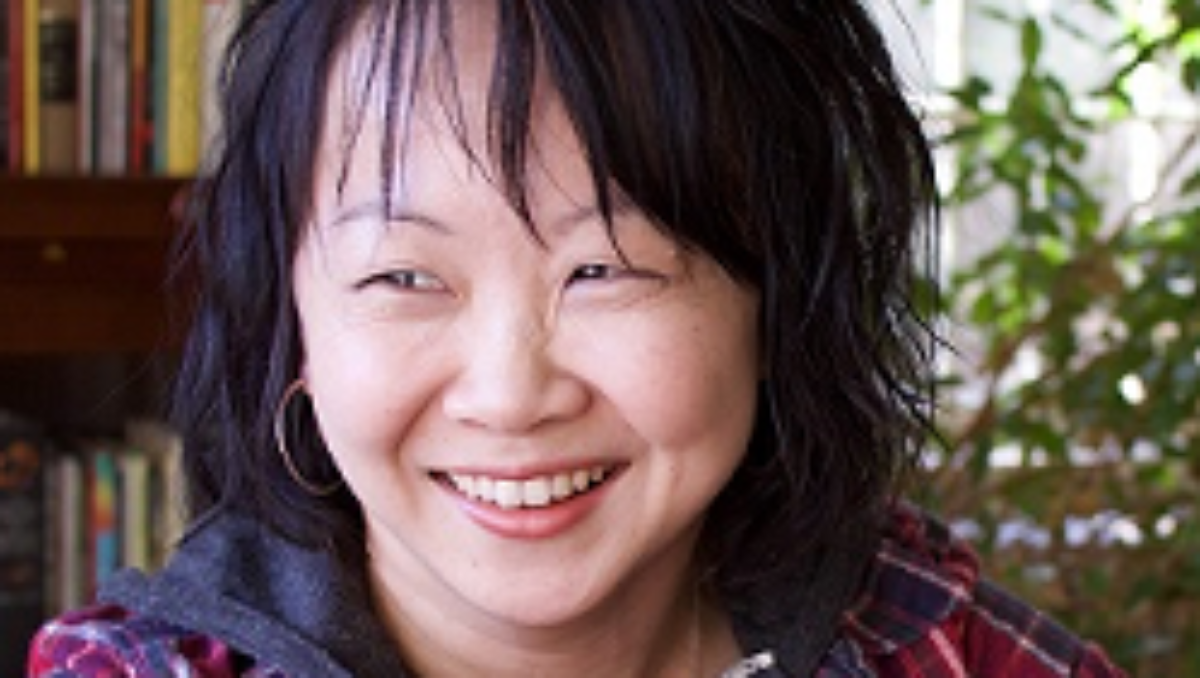 I want to be a boy, you tell the man
who analyzes you. Free of desire.
He nods, light flashing
off his thin gold spectacles.
No one called the singing boys
castrati to their face. So evirato,
meaning one unmanned,
musico: one making music.
Boys aren't free
of desire, of course—
Though not by ordinary means—
fingers pressing keyboard, lips
against a cold silver mouthpiece.
No, the singer's body turned
to supple balsam, stretched
over the years until it forms
that frame beloved by engineers—
strength, endurance, range—
You uncross your legs, recross:
left over right. Beneath you
the vintage leather cushion sinks.
It's the idea that they aren't
committed yet.
until those clear, adolescent ribs
ascend like arches in a nave, not merely
the idea of being holy, no—
* * *
the blood and the meat. Only then
is the sacrifice complete.
Out the window a crane lifts;
staccato drilling.
I'm sorry,
the man says, waving—
all this construction.
It seems appropriate, you say.
Only then will the whole frame sing.
Become a building large enough
to contain the singer's longing—
all his longing, all our own—
But no, what you told him
wasn't true—
what you want
is to feel everything, desire
as the scarlet tape beneath
the plastic, what you want is
not the package unwrapped,
solid in your hands, but
pleasure in the pulling, gently
ripping off the plastic.
enough to let us watch him
grow transparent: liquid, dim
in the dusk as a cool glass bowl.
And who are we to question, we
who bend our ears to listen?
* * *
Violare, you tell the man
who analyzes you,
is a beautiful word
despite its meaning.
Unlike victim, unlike vulnerable.
Castration was never, strictly speaking, desirable. Or legal. But beauty made the mutilation worthwhile, vital even, since God couldn't exactly sing to Himself. Money made it prudent. So castrati trained to sing like angels performed His masses, played the parts of both men and women—lovers, heroes, villains—in the candelabraed courts of kings and queens. Got rich like rock stars. Were beloved.
I fell in love with the castrato known only as "the boy" ("Il Ragazzo") at first, then as Farinelli, when I fell in love with the music of his friend" Domenico Scarlatti. A late sonata, I remember, recorded on piano: needle-like precision, needle-brilliant colors in the hoop. What I can tell you is it jumped. He jumped. Off the tracks into unrelenting dirt, showing us a glimpse of his mind, that private dark plummet of the mind we hide from
ourselves, from others, every day. Then up again: into perfect sun, the remorseless summer green of trees.
* * *
You've been abused, he says slowly,
taking care to look into your eyes.
Mind (your mind)
jumps, a slapped animal. Blink,
twitch—
I hate that word,
you begin,
I don't want to think of myself
as a victim. A tight smile.
* * *
Snap as the bridge
collapses, soundpost
slips from its perfect,
upright posture, tumbling
through the empty
wooden torso, little dowel
whose only duty is
to echo (are we doomed
to echo?) every wave that
slaps it through your hungry violin—
one thing making
another sing, because there is
no music without violence,
no sound without a chain.
And when the tumbling stops?
In your hands a newly
metamorphosed box.
An endless loop, each slim sonata—split in half, a repeat at the double bar. You return to the beginning, but not näively, there's no return without an echo of the first time. Older, sweeter sometimes, a darkening wooden cask.
* * *
[ Farinelli, born Carlo Broschi, a child in Naples,
city of cathedrals, opera, castrati ]
No one speaks the words. Silent at the table,
four of us now, a new boy clearing dishes,
first the plates—the ones Father bought in London—
then the knives and forks. The big clock strikes ten,
still Mother doesn't say, Carlo, time for bed.
Riccardo at the head of the table—
barely a week since Father passed away—
sitting high and black as a graveyard gate,
Sofie twisting day-old daisies in her lap.
The estate, Riccardo says. Decisions.
Mother creasing her black lace handkerchief.
A pair of bankers, he begins slowly,
Brothers. They have heard of Carlo's talents.
The large fruit bowl remains on the table,
Father's favorite—a pair of ladies dancing,
fingers hidden in their fluttering sleeves—
two oranges huddled inside it, mute.
They believe his debut would be brilliant.
At the origin of Narrative,
Roland Barthes writes in S/Z,
desire.
Sometimes you hear the frozen river split
and yet you step onto the ice—I ask,
When can it be done, this thing? Can it be soon?
Mother staring deep into her handkerchief,
as if there is an answer there, a stitch
she can unravel with the needle's tip.
No one makes us plunge into the river:
we walk because there is no standing still.
Then Riccardo, O you whom I adore,
how you turned to me and, smiling, said:
Little brother, let it be as you wish.
I will call on the brothers Farinello.
* * *
Desire in the text
beneath the text—
Barthes writes about a tale by Balzac,
a castrato singer parading
as a woman, baffling
as the object of desire.
About himself.
(You can only tell
this tale through indirection.)
Rain. Rain. A few drops cling to the window,
drop without a sound to the sill. Wet wind
blowing in: it barely touches me. Please,
let no one touch me. Just this bed, this bandage
wrapped around my shattered mast like a sail,
the nightshirt I refuse to let them change.
Mother's footsteps in the hall. Then her head
bent over like the Virgin. Prayers. A candle.
We're sailing, I'm sure of it—I'm seasick,
gagging again and again into a basin—
a hand wipes my head with a cold wet towel.
* * *
To produce narrative, however,
desire must vary, must enter into a system
of equivalents and metonymies. . .
I am winding through a stonewalled garden.
Someone mowed the grass. The clover's headless,
dew soaks my feet, my night shirt is too thin—
If only I can find the door I'll find him
sitting on the bench he loved, composing,
whole again: Father in the shade of a tree.
A ritornello, son. You will sing it soon.
He lifts up the manuscript, freshly inked—
a simple tune, andante. Just a scale
branching out like a tree designed to branch,
until it doesn't, snapped without a reason.
Silence in the cooling air. Now it's dusk.
Father looking up at me from shadows:
Son, what are you holding in your fist?
You're used to thinking of yourself
as strong. Sit-ups, pull-ups, runs—
discipline your muscles, rid
your body of itself.
In the mirror everything looks the same.
One lock of hair, still damp, slides down my head.
Push it back. We must be perfect, he and I,
perfectly natural, calm, and gracious.
I move my lips: he smiles back instantly,
as if he's worried I will find him out,
crying and clinging to the post of his bed.
Everything looks the same, I whisper to him.
My voice. Nothing will happen to my voice.
He is silent. In the glassy depths of his eyes
a flash—something silver twitching—a fish?
Tiny, iridescent. Fire in the pool.
* * *
You have always wanted
to be strong—
not one who needs.
Twilight: Mother spoons honey in my tea.
Alone in my room, one window open.
You're just a boy, she says.
Though we both know
that's the point—this hole we'll never speak of,
my softness like a fruit. When all the other
glass bells smash, only I will stay unbroken.
A boy. Always a boy. Il Ragazzo.

Vitula. Viol. Violino.
Violare. Violentus. Violentia.
Origin and History of Violence, reads the header.
You've visited this page 3 times.
* * *
Last night you dreamed again
about your father—
You had him by the wrists:
above your head, the way you'd catch
a snake, one hand beneath his
flickering tongue,
fighting hard to not get bitten (you've worked so hard to not get bitten), other hand wrestling with the slick, elusive tail—
Violins: Violence
No shared root for these words,but isn't it interesting that the Japanese counter
(cho)
for violins includes
scissors, oargun
and
rickshaw?
As in, give me a
cho
of violins. And some guns.
* * *
Vitulare
—to sing or rejoice—is related to
vitula
, deity of victory and thanksgiving and Roman festivals, giving us the root for
both
fiddle
and
violin
.
Vitula
(also calf), because calf guts were used for violin strings.Morning: he has left the bed. Your chest feels likebatting in a pillow, no upholstery,no fringe. Behind the wall,water splashes the bathtub tiles,
your husband's whistling— Mahler-something, each spacebetween his cheerfully constructednotes absolute. Yes,your father hurt you. Loved,in fact, to hurt youso all the hurt could flee the burningforests in his body, slither out toenter yours, renewed—he could see for a moment thenshapes he couldn't bear to watch alone,a man bending down in the dark toblow out a crown of birthday candlesThen everything would be sweet again.You could eat the cake because sweet is what your body craved.What you couldn't hold, you didn't.
* * *
Violare
sounds a lot like
vitulare
, but it means to violate, to wrong. In my old life I argued to a judge that the definition of
wrongful act
includes
violations
of pre-existing
duty
, that
loss
includes claims for
liquidated damages
. I lost. Not all bad acts are wrongful acts, he said. Not all loss is bargained for.Standing in the shower, you feel a lumpon your scalp, behind the ear.How did it get there? Can't remember, but that feeling—something swollen, buriedbeneath your dripping hair—is familiar. Almost comforting.Like a picture that you've seena thousand times on a billboard appearing on your phone screen—crisp, so crisp. You remember little things: his white Hanes undershirt, fingers small and meticulous, working the potato peeler— swivel of those long, jack-o'-lantern-orange strips
* * *
he scraped from the carrot falling, julienned, on the open paper.
How they soaked the newsprint.
Shit-like offspring—
that was his favorite curse for you in Korean.It had a satisfying ring:dactyl plus a trochee; five hard consonants.Some days it was
dog
offspring. When he was feeling, say,less creative, just
bad
offspring. Done trying whatever names he had for you, he'd pick up the bleeding newspaper, dump the peels into the trashcan—
tap tap
against the molded plastic. Flick the last few strips with his pearly nail tip.
* * *
Quote from Marcus Aurelius, Book II of the
Meditations
:
"When you wake up in the morning, tell yourself: The people I will deal with today will be meddling, ungrateful, arrogant, dishonest, jealous, and surly. They are like thisbecause they can't tell good from evil."Tell yourself what curesis the power of discrimination: spotting colors in the dark, singing in the shower.If you
know
you were wronged, who was wrong,well, shouldn't you be okay? Sound from a violin (what we call music) is the product of a chain of fine aggressions and reactions: draw the
bow
slung with stiff white horsehair (only horses that have lived in cold weather countries) across four strings (sheep-gut core wound in silver or aluminum), start a tremor in the
bridge
carved from unbleached maple beneath the strings, sending ripples to the
soundpost
(spruce) lodged upright inside the belly—
* * *
You feel fat and sad. Is this because of him, what he did to you (
to
you)? Is that the right preposition? You want to smash something. Thumbnail digging into nail bed, your hands slack on the wheel. What have you smashed, ever?Standing over you: he. The hand (or is it fist?)slamming the side of (whyare you recalling this?) the head. Yours.Face turned. There is no clarity,
I'm done with you!
no single instant—
* * *
only reel, only the girl going down, getting up, go-ing down: endless loop, bad audio.A few seconds. —Make the
soundpost
ring. That's what it's built for: flood on flood of quick vibrations. Make it tremble, make it echo every note you play, transmit like a good little messenger every wave to the silent forests of the body, out again through two holes in the belly's surface, called
f-holes
. As in the italic letter
f
, since only holes release music from an instrument. As in
forte, fine, fuck
.
* * *
Do you remember how many times he did that
to
you?
Through you
. There was a thin blue tarp. Or you wished it—
between
(protecting, screening, shielding) him and you. He
against
,
on top of
(only a minute, only a few times, he probably didn't mean it) you. Wished for something more than air.Don't you feel mad
at
him? (You remember
feeling plastic.)There was no penetration there wasa tarp, thank God, it was you holding upa sky made of plastic.
* * *
You want to smash something. Instead, you sing along to the radio—
On the long way down
,
Oh oh oh, oh oh oh—
feel the seizing in your gut, how it tightens then lets go. Stop for the school bus flashing red. Tick-tock, tick-tock.Marcus continues: "But I have seen the beauty of good, and the ugliness of evil, and have recognizedthat the wrongdoer has a nature related to my own—not of the same blood or birth, but thesame mind, and possessing a share of the divine.
And so none of them can hurt me."
(Emphasis added)
* * *
O beauty of the bathroom, patience of the door that shields her from the brittle house of him. O mirror in the cabinet never filled with medicine, bulbs in the fixture always electric. O head a ball of playdough abandoned on the blacktop in the pouring summer rain, water in the holes dug by a pencil. O trace for which she searches half in horror, half in vain, of her father's latest handprint—proof of what the fire did, what beams of the cathedral look like burned. O camera, are you getting this? Take the roof off this house, spot the hallway to the narrow master bathroom where he sits. Show us the newspaper: pages falling open on his knees with a sound like a fan clicking shut or clicking open, sooty wings of an angel neither good nor evil, just a messenger. O beauty of believing in the sweet independence of things: coldness of the washcloth lifted to her head, water in the sink, pacing of her mother in the kitchen. O sanity in thinking even she (little weakling thing) could at this moment, if she chose to, simply hate him. I won my appeal.
When I read
reversed
,
I jumped up in my empty office, yelling "Suck it, Judge ________!"
I rejoiced and sang, I'd never felt so victorious.
* * *
"No one can implicate me in ugliness. Nor can I feel angry at my relative, or hate him." O Marcus.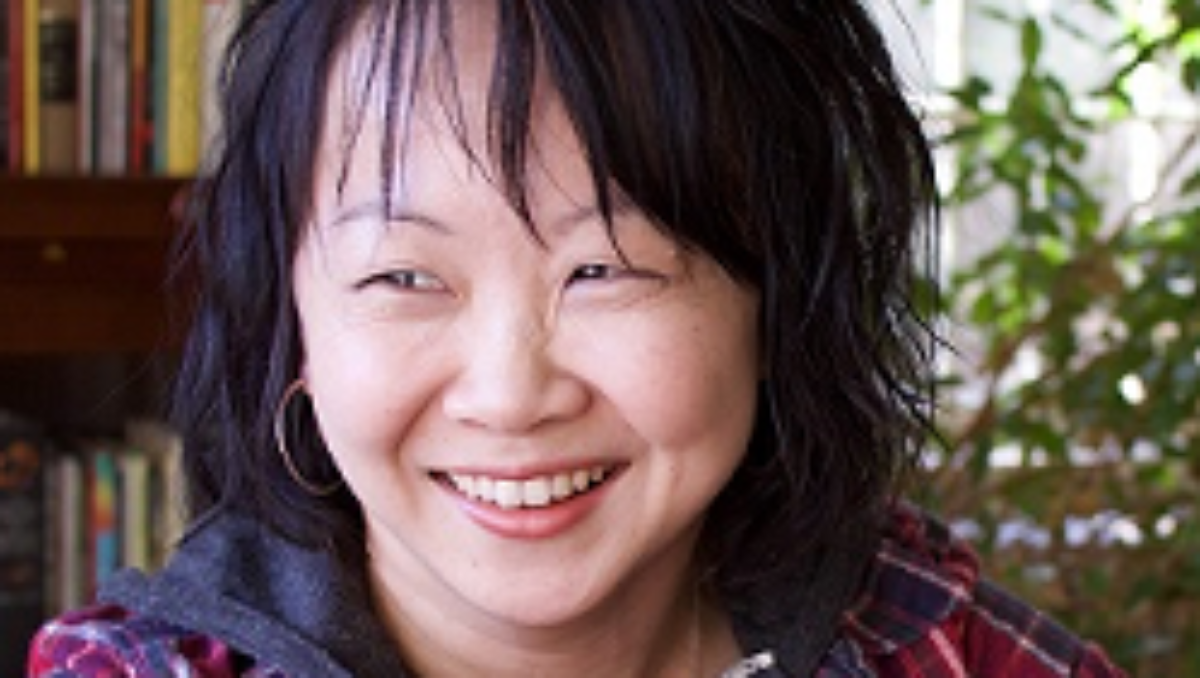 from Annie Kim's new manuscript: Uses for Music
_________________________________________
_________________________________________