TWO POEMS by Helena Mesa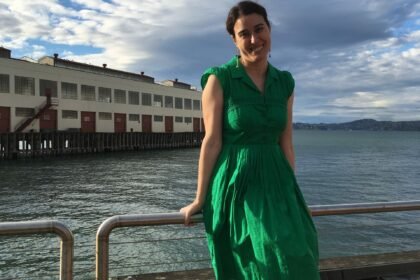 Bozza Imperfetta of Sight
The tourists arrive. Dogs roam, smaller than the strays back home, then sleep, teats exposed, on warm stone roads. The tourists snap pictures; they snap pictures of each other snapping pictures; as expected, they snap pictures of cars—a 1950s Ferrari, a red taxi with Rubenesque curves. Strangers wave, pose: A man palms a blue cake, another grips a chicken by its feet, its wings twitching. At a cathedral, the tourists enter without genuflecting; they enter reflections, each a prayer gracing the tile floors, the faces of the faithful. The tourists study their maps.
The tourists crowd a van, drive to the countryside. There they break bread with the people—fried plantains, ropa vieja, wine. Half-hunched, a man beats time with his cane—he calls the host by name, he sings: I've seen your wife, sings: she's climbed into my bed. The tourists look from man to man.
Back in the city, the tourists stroll the promenade. An arched window opens nowhere. A wall salutes the street, its scaffolding woven with weeds and vines. Farther down, boys play soccer under a stairway floating midair. Each step climbs and climbs, never arriving.

Prayer for No Country

Between my want and your want
for me, I envision our universe:
a kerchief, each tip gently pulled to
its fuchsia center,
the cloth creased. And ironed.
You will turn over the new square,
and repeat. My turn, your turn—
and repeat, until we can no longer
fold the cotton.
Then, you and I
will occupy not a country
but a hard origami knot, each part
of us pressed against
the other.