TWO POEMS by Augusta Funk
/
Friday, 13 August 2021
/
Published in
Issue 21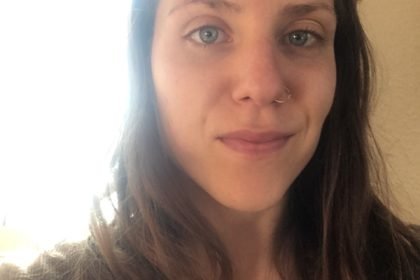 COUNTING TREES
The summer before you left
the store of wingbeats at dusk
finally broke off.
I reached for the shadow between the fence and the house
not caring if I looked plastic in the long stretch of green.
Once, measuring what was left of the earth's
vertical fields, you almost called me lifelike.
It was a poor apology for a doll's world at the end of the century.
But you made me imagine a crest of red rock both ways.
A sky too deep to see.
BLUE MACHINE
Days begin with fire. Logs husked of bark and kitchen tables piled with
glass figurines.
Lemons make the floor shine. The moon draws up the bottom of a cup.
I drop the bucket when the oven is warm. Soak the branches the older girls
cut from the oak.
They play while I supervise the younger ones at the stove. A quilt drapes
over a set of chairs. Separate rooms for love and snow falling easily.