MONTHLY: Chapbook Conversation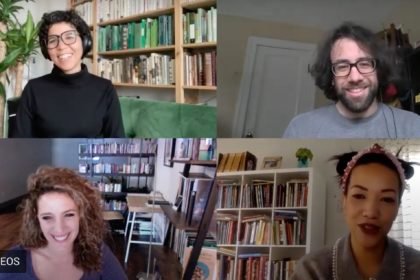 The chapbook is a strange and protean form, flickering somewhere between long poem and short book, and though they get little love from reviewers, prize committees and large publishers, many of us write, publish and love them. So, in January, I sat down with three poets whose chapbooks I've really enjoyed, to talk with them about our experiences writing (and shilling for) these little fascicles, and how we did (or did not) weave them into full-length books. Conor Bracken



Conor Bracken

is the author of

Henry Kissinger, Mon Amour

(Bull City Press, 2017), selected by Diane Seuss as winner of the fifth annual Frost Place Chapbook Competition, and

The Enemy of My Enemy is Me

(Diode Editions, June 2021), winner of the 2020 Diode Editions Book Prize. He is also the translator of Mohammed Khaïr-Eddine's

Scorpionic Sun

(CSU Poetry Center, 2019). His work has earned fellowships from Bread Loaf, the Community of Writers, the Frost Place, Inprint, and the Sewanee Writers' Conference, and has appeared in places like

BOMB, jubilat, New England Review, The New Yorker, Ploughshares,

and

Sixth Finch

, among others. He lives with his wife, daughter, and dog in Ohio.



What the Chapbook Allows For
"[The chapbook was] a more dense approach. [The poems] are more focused… Because I am so blobular and sprawly…the chapbook helped me so much with the [full length] book… You know when cells sort of… create an internal circle and expel something? Endocytosis! This little nucleus started forming within the blob [of a bigger idea], and that became the chapbook. That helped me center around a specific object, and a specific line of thought, and it became a guiding principle. A concrete thing to work around. [The chapbook] helped me in eliminating all the things that did not belong to it." Ananda Lima


Ananda Lima

's poetry collection

Mother/land

was the winner of the 2020 Hudson Prize and is forthcoming in 2021 (Black Lawrence Press). She is also the author of the poetry chapbooks

Amblyopia

(Bull City Press – Inch series, 2020) and

Translation

(Paper Nautilus, 2019, winner of the Vella Chapbook Prize), and the fiction chapbook

Tropicália

(Newfound, forthcoming in 2021, winner of the Newfound Prose Prize). Her work has appeared in

The American Poetry Review, Poets.org, Kenyon Review Online, Gulf Coast, Poet Lore

, and elsewhere. She has an MA in Linguistics from UCLA and an MFA in Creative Writing in Fiction from Rutgers University, Newark.

"For me, too, [the chapbook] was so much more fun…! The chapbook is just a really wonderful time. It's really one of my favorite parts of my writing life so far." Taneum Bambrick


Taneum Bambrick

is the author of

VANTAGE

, which won the 2019 APR Honickman First Book Award. Her chapbook,

Reservoir

, was selected for the 2017 Yemassee Chapbook Prize. A graduate of the University of Arizona's MFA program and a 2020 Stegner Fellow at Stanford University, her poems and essays appear or are forthcoming in

The Nation, The New Yorker, American Poetry Review, The Rumpus

and elsewhere. She teaches at Central Washington University.

"There was something more fun about the chapbook process, because it almost felt like you didn't know what the expectations were… Because the big book is like "This is the BIG BOOK… Oftentimes we're so used to seeing our poems in our Microsoft Word frame-world, that it was such a huge thing to me when Ross sent me my first mockup of my book… Going through those small processes, having the object, giving your first reading with the book, and going through all those on a smaller level, to me was such an added boost in getting to the big book process." Tiana Clark


Tiana Clark

is the author of the poetry collection,

I Can't Talk About the Trees Without the Blood

(University of Pittsburgh Press, 2018), winner of the 2017 Agnes Lynch Starrett Prize, and

Equilibrium

(Bull City Press, 2016), selected by Afaa Michael Weaver for the 2016 Frost Place Chapbook Competition. Clark is a winner for the 2020 Kate Tufts Discovery Award (Claremont Graduate University), a 2019 National Endowment for the Arts Literature Fellow, a recipient of a 2019 Pushcart Prize, a winner of the 2017 Furious Flower's Gwendolyn Brooks Centennial Poetry Prize, and the 2015 Rattle Poetry Prize. She was the 2017-2018 Jay C. and Ruth Halls Poetry Fellow at the Wisconsin Institute of Creative Writing.



Structure
"I looked at each of the sections of my big book as actually three different chapbooks. And that helped me break down the aerial view into sizeable chunks to help me manage it mentally and emotionally." TC
"I'm writing these poems and then I see that there's a sort of theme emerging, and there's a lot of poems that are talking to each other and are tending towards certain subject matter or a mood. At first I'm just thinking of the poem as a poem, and then I'm thinking of this blob… This is my book—the blob!
For me, the difference between the blob and the chapbook was just that there was a conversation crystallizing around this nucleus… Find and create bridge poems: Look for poems you might have thought about including in your chapbook, but decided not to because they veered away from the chapbook's core. You can also do this with new work, work-in-progress, and even notes on poems-to-come. The goal is to find poems that speak to the work in the chapbook, but don't neatly fit into it. Use that intersection to expand the work into new threads to be explored for the full length." AL
"Think about your favorite book of poems. There's probably only 5 or 6 poems that come to your head… If you have 5 or 6 fire poems, then you're ready to go… Also…make sure everything looks beautiful and perfect. It starts from the table of contents. Those are like little chapter novels!" TC
"What do you feel is missing? I don't mean "missing" in a negative way, but rather as gaps where more risk, information, and urgency might enter into the project. What did you carve out through the editing process? Do you still have those drafts? Who told you to throw them away? The process of editing a chapbook, at least for me, was so influenced by institutions: some of what I removed initially, or didn't feel brave enough to pursue, were poems and essays that represented the most authentic parts of the experiences I was describing." TB



Audience
"Thinking about the audience in the process of composition and even assemblage can be paralyzing. I love how chapbooks can unfetter us from our own expectations of ourselves so that we can write without an audience, that doesn't even exist, breathing down our necks…and can also give us this kind of tailwind we need for the next stage." CB
"I did a mini-chapbook tour…and I was reading at mostly bars in random places…and I was just writing down questions people had for me, so I would hear where the gaps were, [the] places where I was resisting something that felt risky or where I hadn't written yet something that might be the most vulnerable." TB
"I often don't think about the audience, even in general. I saw Terrance Hayes in an interview talk about how in his first drafts the audience is never in the room, it's just [him]and [his] shadows and [he's]just exorcising everything out. Obviously, we think about the audience at some point, which for me is revision, or publication. I always tell my students there's the poems you write and the poems you publish." TC
"Using submissions as a thing in your writing process …is very true for me too. I find that the revisions I do before the deadline are so much better than the ones I've been doing for months. That's when the audience comes in… It makes it easier to imagine other eyes reading that." AL



Submitting
"I was unable to publish the poems individually because my book is very much narrative-driven, so if you extract individual parts, they don't really make sense. I was encouraged by my workshop leaders at the University of Arizona to pursue chapbook publication." TB
"[The thought process was] I think I have 15-20 poems in conversation, let me submit to a chapbook competition. I make it sound so haphazard but that's kind of how I was… I looked at submission deadlines at the time as a way for me to help with my revision process." TC
"Having that editing process helped me understand what I had here [in this chapbook] that belonged to the other [bigger] book." AL
"I got a handwritten rejection from Bull City. It was so cute! I remember carrying that handwritten note around. I had it on my wall in my room because it was so important to me. It was the first time anywhere that I considered to be a really big deal publishing place had ever spoken to me. It was this intense breakthrough that gave me the motivation to submit it… I look back on how dramatically that changed my idea of myself. From that note on, I went from writing by myself to writing in community." TB
"If you got a personal rejection, whether that's for an individual submission or for a chapbook or for a big book prize…the fact that someone took the time is a really big thing, and it's also a sign you're getting closer. I love that quote from Sylvia Plath: 'I love my rejection letters, they're signs that I tried.'" TC



How much of the chapbook became 'the Big Book'?
"When it got to the Big Book for me, [the big book] definitely had a theme…after you do the mini-tour [for the chapbook] and get the little amuse-bouche of what's happening, then it helps you for the Big Book. I was like, what conversations do I want to be having, what do I want to answer in Q&As and interviews, because I got a taste of that with the chapbook… [For the chapbook and the big book] I let those voices haunt me in a different way." TC
"[I had] my fears about having too many of the same poems in the chap and the full-length, and worrying about the audience in that way and trying to figure out how to make [the poems] different. I ended up with almost all the poems from my chapbook in my full-length, so that felt like a really big risk… My chapbook had a quieter reception, so it didn't really matter that much. But the biggest difference is that I was really interested in hybridity and including essays alongside poems… The difference between the chapbook and my book is pretty much the risk of hybridity and the risk of engaging in those traumatic, scarier, more personal details." TB
"I was worried that everyone had read some of these poems. Because it felt like more of a book than a chapbook for me, I kind of let it go. "This is its own thing." The full-length became a challenge of creating a newer object and I want them to have two separate worlds. I think I only have 2.5 poems…from the chapbook in the big book. What are poems that are absolutely in this other conversation? But I gave myself permission to let my chapbook be its own thing and just kind of put it on a boat and pushed it away." TC



Direct Advice
"What are some guiding principles? 'Every good book—whether that be a novel, a linked short story collection, or a sequence of poems—starts with an unanswerable question.' And the protagonist…struggles with that, trying to answer that question, and never does, but it's that tension that creates the narrative arc." Charles Baxter via TC
"Having good teachers is really important for [learning to embrace risk] and identify what [you're] avoiding." TB
"The workshop is a voice but not the voice. [It can] sanitize risk." TC
"One thing my professor [Mark Jarman told me about impostor syndrome], this grand professor with all these books, he was like "oh, you'll have that for the rest of your life." He said it so matter-of-factly and there was something about that that was so comforting, so I was like oh, so this is not something to overcome and the fact that I'm feeling that is very much in line with being a writer. Once I realized it was insurmountable, I was like oh, I got this. So I alchemized that energy." TC
"Find unexplored threads in your chapbook: Talk through your poems with a generous friend (or an imaginary friend, if you are good at pretending). Go through each of the poems in your chapbook and have fun geeking out on what you did (eg. "the line break here does X, isn't that cool?", "I used this word here because it can also mean X," etc). Sometimes talking about poems in the way, you find themes that are under the surface, that you could explore them in more depth in a full collection. The friend can stay silent or they can ask questions (eg. "where do you think this word is going?"), as long as you both understand that this is not a workshop but a generative exercise looking for nascent threads in the chapbook.
[In terms of emotional management] Feel great about yourself and your accomplishment. You wrote a chapbook and that is awesome. Remind yourself when you didn't have a chapbook at all and the time when you were anxious about a fledgling something in your hands, unsure of where it would go. Remember this and use it to keep yourself going through some similar anxieties when writing your full-length collection." AL