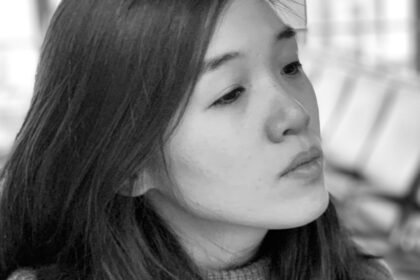 Willie Lin's debut poetry collection, Conversations Among Stones, will be published in November 2023 by BOA Editions. Simone Menard-Irvine interviewed Lin for Four Way Review.
---
FWR: I would like to start out by first asking about what it's like to be publishing your first full collection of poetry? What was the process of writing and assembling like in comparison to the publication of your earlier chapbooks?

WL: My urge in assembling manuscripts is always to pare down. Because of this impulse, assembling my chapbooks felt like a much clearer and more straightforward process. For the manuscript that became Conversation Among Stones, I struggled with holding it in its entirety in my mind and had to be more deliberate in my approach. I understood how certain constellations of poems fit together but was a bit overwhelmed with shaping the manuscript as a whole. At one point, I actually made a spreadsheet of all the poems that I thought might belong in the book and notated and ordered them according to a few different axes to help me see how they might fit together.
FWR: Your title, "Conversation Among Stones" brings up questions of action between the inanimate. What inspired you to frame your collection under this title?

WL: That idea is definitely part of what I had hoped to evoke with the title—of speaking to the inanimate and what can't or refuses to speak back, of language spanning, filling, straining, or distending across gaps, of failing to say or hear what matters. I think these intimations are a good way of entering the book, which I hope worries and enacts some of these concerns regarding the capacities and limitations of language.
FWR: My next question is in regards to the variations of length in the poems. In "Dear," which is only two lines, you write "A knife pares to learn what is flesh. / What is flesh." Both a statement and a question, you ask the reader to consider something so simple, yet laden with ideas regarding the body and violence. What was your process in developing these shorter pieces, and how do you see them functioning within the broader collection?

WL: Poems can beguile in so many ways, but I've always loved the compactness of a short poem. Part of it is how easy it is to carry them with you in their entirety and turn them over in your mind. Since I first came across Issa's "This world of dew / is a world of dew. / And yet… and yet…" in a poetry class almost 20 years ago, I've been able to carry it with me. I've learned and forgotten countless things in poems and in life in the ensuing years, but have kept that poem almost unconsciously, without effort. Another aspect of short poems' appeal to me is the paradoxical way time works in them. A short poem's effect feels almost instantaneous because of its brevity but time also dilates across its lines. The duration seems somehow mismatched with the time it takes to run your eyes along the text. In Lucille Clifton's "why some people be mad at me sometimes," the body of the poem answers the charge of the title in five short lines:
they ask me to remember
but they want me to remember
their memories
and i keep on remembering
mine
That last one-word, monosyllabic line, especially, seems to take forever to conclude. The compression of the poem—the words under pressure from the wide sweep of white space—exerts a redoubled, outward pressure and reverberates.
My poem "Dear" started as a longer poem (not longer by much, maybe 10 lines or so). At one point, as an experiment, I took out all the "I" statements in the poem and arrived at the version that exists now. Often, that's how it works. I try different approaches and revise, sometimes rashly and foolishly, until something jostles loose. When I finally got to the two-line version of "Dear," for me, the fragmentary nature of it fit with the precarity of its assertion and question. How the shorter poems appear on the page also matters in that I wanted the blank expanse that follows the poem to function as an extended breath. Because the book proceeds with no section breaks, it made sense to me to vary the lengths and movements of the poems to establish a kind of cadence, a push-and-pull.

FWR: In thinking about the themes that circulate throughout your work, a couple of specific ideas stand out as particularly potent. One is the issue of memory; the violence, complexities, and confusion of your past run their threads throughout the collection. In "The Vocation," you write, "In the year I learned / to cease writing about history / in the present tense, / I was the silence of chalk dust, / of brothers."
It seems like history, for the speaker, is something to be dealt with, instead of accepted unquestioningly. What does writing about the past, be it in present tense or not, do for you as an individual? Does confronting the past through writing work as a catharsis, a way to process, or does it instead serve as a conduit to expanding upon the ideas you wish to convey?
WL: I think memory—and the process of remembering—is an engine for understanding and, by extension, meaning. For experience to make sense, we have to remember. Knowing or thinking can't really be separated from experience. It's also true that memory, personal and communal, is restless and malleable. I have an image of the past as a landscape of sand dunes. The shapes drift. They slip, they resettle. How things feel in the moment can be one kind of understanding, how we remember them, how they shift, linger, rise, how they appear in the context of things that have happened since or what we do not yet know are other kinds.
In Anne Carson's "The Glass Essay," when challenged on why she remembers "too much"—"Why hold onto all that?"—the speaker responds, "Where can I put it down?" I suppose poetry for me is one place to put it down. (Though I don't think I could be accused of remembering too much in life. I have a terrible memory.) In writing a poem, I'm making a deliberate attempt toward an understanding, however provisional. Poems are good spaces for holding and turning, for thinking through and imagining, for venturing out—and that is the final, extravagant goal, to reach out and connect with someone else. In my poems, I want to make a path that leads inward to the center—and out.
FWR: In that same poem, you confront another central theme: men. When you mention men, they are typically described via their participation in fatherhood or brotherhood. You write, "the men/slammed the table when they laughed/at their circumstance, or drank/too much to learn what it meant/to have a brother, or were true to/no end, or tried to love their fathers/before they disappeared into/hagiography."
Masculinity here seems to be defined as a relational identity, one that is constituted by lineage and socialization. I would love to hear you speak on your relationship with gender norms and roles, especially in your writing.

WL: This question is particularly fascinating because I can't say I conceived of my poems working together in this way, even though of course you're right to point to how often these types of familial terms come up. I suppose part of the answer has to be how the poems relate to my autobiography. In my family, my mother is the only woman in her generation. She has two brothers and my father has two brothers. I'm also the only woman in my generation. I have three cousins, all men. I'm an only child who grew up in China during the one-child policy, so all around me were lots of children just like me, who'll never know what it means to have a sibling. I felt a bit of an outsider's fascination with those types of relationships and inheritances, especially as I got older and became more aware of the other social forces at work that historically favored sons. I think poetry can function partly as personal interventions in cultural history and memory, holding the ambivalences, contradictions, and idiosyncrasies that live at those intersections.
FWR: We see many instances of place in relation to memory, but there are only a few instances in which those locations are given a specific name, such as in "Teleology" when you mention Nebraska. Can you walk us through your approach to location in your work and what places need an identifier, versus places that can exist more specifically within the speaker's domain of recollection?

WL: I think generally the idea of dislocation is more important than the locations themselves in terms of how they function in the poems. Saying the name of a place evinces a kind of ownership of or intimacy with that place. For many of the poems, in not naming specific locations, I more so wanted to evoke a sense of rootlessness and for the intimacy to be with the speaker's uneasiness within or distance from those places. "Nebraska" in "Teleology" is a departure from that model not only because it offers a specific name but also because I think in this instance Nebraska is not a real place but an imagined one—a kind of projection that stands in for other things (the poem says, "like Nebraska," "many Nebraskas," "Nebraska is a little funeral"—my apologies to the real Nebraska!).
FWR: In "Dream with Omen," you end the piece with "I would like to rest now / with my head in a warm lap." This is one of my favorite lines, because it both speaks to the sound and feel of this collection, and it interrogates the two balancing aspects of this collection: that of memory and the mind, and that of the physical present. The speaker in many of your pieces seems to be constantly grappling with the subconscious world, made alive by dreams. How do you view or negotiate the separation and/or melding of the subconscious and the "real" world? Does the mind and its preoccupation with the past stop the self from fully engaging in the present? Can the speaker rest in a warm lap and still accept the darkness of the subconscious?

WL: In putting together this book, I became conscious of how often I write about dreaming and/or sleeping. I felt sheepish both because we are told often (as writers and as people) that dreams are boring and because maybe these poems betray my personal tendency toward indolence.
It's interesting to align the past with the subconscious and the present with the "real" as you do in the question. I do feel the tension between those things in writing even as I also feel that thoughts are real and fears are real, etc., just as senses—how we experience the physical world—are real. And it feels a little silly to say this but I have a kind of faith that our subconscious is working away trying to help us come to terms with what occupies us in the real, present world even as we sleep and dream. Everyone who writes has at times had that sense that what they are writing is received, as if they are tapping into some other world or force. Maybe that idea is analogous to what I mean.
Memories, dreams, the subconscious, however the particularities of the mind manifest, feel consequential in their bearing on lived experience—they are how the real world lives in us. There is no unmediated world. Or if there is, we don't know it. We must encounter the world personally because we are people. All this is to say I'm still learning line-to-line, poem-to-poem how best to articulate that kind of interiority in a meaningful way, without leaving the reader adrift. Leaning on dreams can make a poem feel muted and entering memories can feel like putting on the heaviness of a wet wool sweater and those things do not always serve the poem. I hope for my poems' sake that I get that balance right more often than not.
---
Willie Lin was interviewed for Four Way Review by Simone Menard-Irvine.
Simone Menard-Irvine is a poet from Brooklyn, New York currently pursuing and English degree at Smith College. Her work has been published in HOBART and Emulate magazine.