INTERVIEW WITH Dilruba Ahmed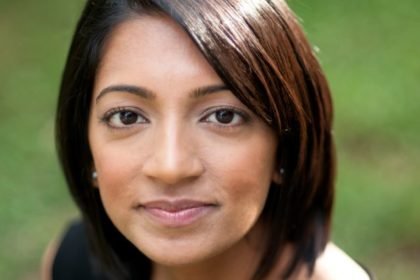 Dilruba Ahmed is the writer of Bring Now the Angels (University of Pittsburgh Press, 2020) and Dhaka Dust (Graywolf 2011), which won the Bakeless Prize. Ahmed is the recipient of a Dorothy Sargent Rosenberg Memorial Prize, and she holds degrees from the University of Pittsburgh and Warren Wilson College's MFA Program for Writers.
---
FWR: In an interview with the New England Review, you stated that, "I'm interested in the ways that—particularly during difficult times—a seemingly small act can contribute to a greater purpose. And how those acts, even when they occur in relative isolation, can bind people together toward a common goal. While you made this comment while reflecting on the term "resistance" with respect to your poem, "Underground," I think it speaks to the other poems in Bring Now the Angels, as well. Illness frames much of the text, as you reflect on "SickDad" and how cancer impacted your family with an eye towards the minute detail.
In the poem "Local Newspaper, Floating Photographer, Father's Day Edition", you describe images of vitality: "Describe your father. / Midnight scrambled eggs each New Year's Eve. The insistence: 'say yes to cake' … Describe your father / Why do children keep growing, in their small and ignorant bliss?" Each of these small moments construct a man and a life, and by sharing these moments of specificity with your reader, you have brought us into this man's life more effectively than broad strokes. In this movement from the broad (father; illness) to the keyhole ("pizza purchased for men searching dumpsters in Columbus"), did you find it easier to write about small moments? How did you find the lens with which to view these grander, binding moments?
Dilruba Ahmed: My new book, Bring Now the Angels: Poems, is an extended meditation on loss, both personal and public. In the personal realm, the poems mourn the many losses associated with chronic disease and terminal illness in the Western world. During a 3-year battle with multiple myeloma, my father lost his health, his mobility, and his typical daily activities. Some changes were sudden and dramatic; other losses accrued slowly.
The ripples kept growing. We experienced a loss of confidence in Western medicine, which both saved my father and destroyed him, and for me, in faith. The disappearance of our bearings and touchstones transformed the world into a place suddenly strange and unfamiliar.
The situation was painfully personal, but everything happened within a larger context. We witnessed firsthand the cost of being ill in America: the associated expenses, maltreatment, discriminatory practices, and reckless over-use of painkillers. Not to mention access issues to dialysis centers and the related questions about quality of treatment and quality of life. In each health care facility, for every deeply caring and attentive health care professional, there were physicians who were out of touch with their patients and the mission to heal. My family members and I experienced the corruption and carelessness of our country's healthcare system even as a few shining stars gave my father the best possible medical attention he could have requested.
While small moments often sparked poems like this one, in my revisions I've tried to consider their larger contexts so I'm not just "zooming in" but also "panning out." I'm making an effort to examine the layers surrounding personal moments by asking, "What are the social, cultural, and historical contexts relevant to this poem? Who has been represented here, and who has been erased?" Claudia Rankine has called for white writers to examine how the racist history of our country has shaped mainstream thinking about both whites and people of color—and our representations of both. From the intersections of my identity, there's still work to do as well.
These questions have led to deeper revisions, as with the title poem of my new book, "Bring Now the Angels," which began as a measured acceptance of a terminal diagnosis and the adjustments accompanying physical and cognitive losses. In subsequent revisions, I situated personal loss in more universal ways, focusing less on the diagnosis and more on the indictment of a society that permits the vulnerable to suffer under dismal conditions, with poor medical treatment and exorbitant costs. I revised from a first-person narrator to an oracular, choral voice that bears witness to maltreatment, misuse of addictive painkillers, and debt.
FWR: In the poem " With Affirmative Action and All' , you write, "in any given American town, / there is a room inside a room inside a room/ where thought shapes word shapes action". Several of your poems, such as this one, or "Self-Guided Tour", wrestle with what it means to be in America, and what America means in a globalized world. Did you look to other poets for guidance in writing about the political in our current state?
RA: Yes! I have many inspirations informing my poems – sometimes overtly, sometimes playing it the background like a poetic playlist.
In some poems in Bring Now the Angels, I was experimenting with W.H. Auden's notion of "indirect communication" with the reader. Auden believed art couldn't move people to faith, for example, but that it held power to show them their despair. My explorations led to poems such as "Choke," which recasts "Jack and the Beanstalk" in two voices: an unidentified interviewer and an Indian farmer. In the poem, I envision the effects of large-scale corruption on the individual, with hopes of eliciting awareness. In "The Process," I try to channel the distanced tones of Elizabeth Bishop's "One Art" to critique our shared complacency, hoping readers will realize our collective agency. In "The Children," a poem meant to locate our heartbreak and humanity as immigration policies shift dramatically, I attempt to capture intimacies between parents and children in stark contrast to brutal family separations at our border.
One of the more overt influences on my politicized work includes Roque Dalton, a Salvadorean poet whose poem "OAS" holds both dry wit and bitterness. His work inspired my poem, "Self-Guided Tour." More generally, Adrienne Rich's writings frame my engagement with politicized material: "No true political poetry can be written with propaganda as an aim, to persuade others "out there" of some atrocity or injustice… it can come only from the poet's need to identify her relationship to atrocities and injustice, the sources of her pain, fear, and anger, the meaning of her resistance."1 In my writing, my hope is to embody resistance on multiple levels. For example, "Underground," attempts to situate the resurgence of American civic engagement, including my own. Striving for a global perspective, I tried to broaden my focus beyond conventional actions such as public marches and activist phone calls. I wondered how might I witness courage and agency that goes unseen—actions not necessarily recognized as resistance.
My musings resulted in a poem about private and public resistance by Afghani women under Taliban rule. I strove to represent the women's resistance as not only fighting back, but also finding ways to thrive under threatening circumstances. By engaging with this material, I hoped to lend perspective to the present American challenge of political organizing among work and family obligations—actions that occur, for many of us, within an existence of relative privilege and freedom.
There are many, many poets who make up my playlist when it comes to politicized poetry, including Claudia Rankine, Brigit Pegeen Kelly, Rick Barot, Ilya Kaminsky, Matthew Olzmann, and Elizabeth Bishop….
FWR: In this vein, the poem "Incident" has haunted me long after I first read it, with its juxtaposition of maternal love and parental violence. It also seems to read as an ars poetica, with the lines : "If I love my sons— / their sleep-ruffled curls… with even more ferocity/ and mindfulness, can I erase / the girl's pain?" It also reflects back the love and pain that is so often built into relationships within families. Could you speak to this poem?
RA: One of the questions fueling Bring Now the Angels is related to witnessing the suffering of others, and the resulting sense of powerlessness to enact change. I think that, for those of us who may feel overly porous to the world's violence and the distress of others, everyday living can quickly become very overwhelming.
With my father's sudden decline and subsequent diagnosis of multiple myeloma and end stage kidney failure, in many cases there was very little I could do to alleviate his suffering. But through it all, I'd like to believe that the loving presence of family members provided a healing force. In my poem,"Incident," I was grappling with both a sense of powerlessness over other's actions, and the possibility that greater harm could result from any apparent response from me. Because this poem was based on an actual incident, the poem also speaks to the ethical dilemma of failing to act—by not attempting to intervene as a situation cascaded into violence, did I in effect participate in that violence? I, too, remained haunted by this incident and have been unable to reconcile it for myself, despite the risk of unintended consequences for the person I felt compelled to help.
And you are right: the poem could be read as ars poetica that both laments the seemingly ineffectual nature of poetry to create change in the world even while trying to recenter the speaker's energies on mindfulness and deep love. In the end, the poem implicitly yields to the fact the speaker only has power to effect change in the realm that is most directly hers, acting from a deep love that could, perhaps, hold the potential to ripple out beyond the immediate moment. But ultimately, the poem consists of a series of questions for which there are no answers.
FWR: Much of this collection wrestles with grief. How did you approach this experience in your writing? Did the poems emerge organically, or did you sit down to write about loss? Were there poets you looked to?
RA: In an interview with Terry Gross, poet Marie Howe says poetry is "a cup of language to hold what can't be said," explaining that "[e]very poem holds the unspeakable inside…The unsayable…that you can't really say because it's too complicated…too complex… Every poem has that silence deep in the center…"2 Writing about grief was very much a process of finding ways to access those deep silences.
To convey my emotional truths about chronic illness and loss, I tried different approaches—lyric, narrative, and prose poems, with tones ranging from deeply intimate to the distanced language of form letters, medical records, and Google's autocompleted phrases. Restlessness regarding form and content's relationship led me to write ghazals, as well as poems with less conventional structures–including one governed by a childhood toy, the Viewmaster.

Many of the poems emerged in a flood of writing about one year after my father's death. As daughter and as a parent, I'd struggled with my understanding of mortality without finding ways to authentically engage with it in my writing. When an old story about my uncle's childhood snakebite assumed mythic proportions, I found that the use of parable finally helped me to unlock some related emotional truths. The result was "Snake Oil, Snake Bite," one of the first pieces I wrote about my father's battle with cancer. I knew then that I'd made my way to the poems that would form the new book.
Literary heroes in this endeavor include Marie Howe, Agha Shahid Ali, Carl Phillips, Elizabeth Bishop, W. H. Auden, Brigit Pegeen Kelly, Donald Justice…
FWR: I was struck by the shape of your poems. I am hoping you might speak to your process in a poem like "Vanishing Point" or perhaps your use of the ghazal form?
RA: "Vanishing Point" took on many shapes during my revision. In the end, I aimed for a shape to convey the slipperiness of memory and the general sense of unease. I will forever be a student of the ghazal form; this book represents my most recent efforts.
FWR: I always love to ask: what the poems or who are the poets you love to teach or share?
RA: There are many – Donald Justice, Elizabeth Bishop, Agha Shahid Ali, Ilya Kaminsky, Natasha Tretheway, Mathew Olzmann, Gabrielle Calvocoressi, Rick Barot, Ann Carson, Craig Santos Perez, Jenny Johnson, Adam Zagajewski…
---
1. "Power and Danger: Works of a Common Woman." Introduction to The Work of a Common Woman: The Collected Poetry of Judy Grahn. Oakland, California: Diana Press, 1978; New York: St. Martin's Press, 1978. Reprinted in On Lies, Secrets and Silence, pp. 247-58
2. Poet Marie Howe On 'What The Living Do' After Loss https://news.wbfo.org/post/poet-marie-howe-what-living-do-after-loss Originally published on October 21, 2011 10:23 am