TWO POEMS by Xochiquetzal Candelaria
/
Tuesday, 12 April 2022
/
Published in
Issue 23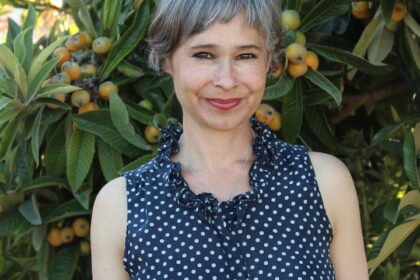 COTIDIANA

Sometimes it is the air
entering from the cracked window above my bed
crisp and sharp with the smell of pepper-tree leaves.
Sometimes, it is how the ten year old boy
reads a book while balancing on his right foot,
left leg stretching toward the ceiling
nothing but his blue and white striped briefs to keep him warm.
Or it's how the four year old girl, face stained with
blueberry juice, squawks, mimes
the beak of a Pterosaur before hiding in a cardboard
box, begging to be left there,
packed up in the dark just long enough to be
sure of what it would feel like to have
to fight her way out.
Each child takes turns,
until they crawl in together
to draw on the inside.
Sometimes it is the box itself,
the one the man carries
in "Michiko Dead."
How he never puts it down.
Just moves it to his head
when his arms tire,
so he can go on
before bringing
it back to his chest again.
CALIFORNIA FIRES

As flames sweep across valleys
and smoke billows and plumes,
the sky blooms golden
like the pigment Caravaggio used
in 1591 when painting The Sacrifice of Isaac.
The old father's hand pressing Isaac's neck into
the ground, the gunmetal gray knife less yellow
near the boy's slender, contorted shoulder. An angel
gripping Abraham's wrist to stop him,
to let him know that God is pleased, that the boy
does not have to be butchered. The ram,
looking up, seems to say, take me
instead.
The fires burning all around, but out of frame.
The haze that highlights the old man's wrinkled
forehead and Isaac's open mouth is everywhere.
The flames disappearing whole orchards, houses,
twisting iron.
What is it about the human mind that resists
signs of destruction?
We hold out hope that, like Abraham, someone else
will save us from ourselves.
The trees on the hill, one cypress, one pine
are dying of thirst. I have avoided having
dogs up to this point because I was
afraid of caring for something that couldn't
talk back, couldn't say you understand nothing.