TWO POEMS by Aaron Coleman
/
Monday, 15 November 2021
/
Published in
Issue 22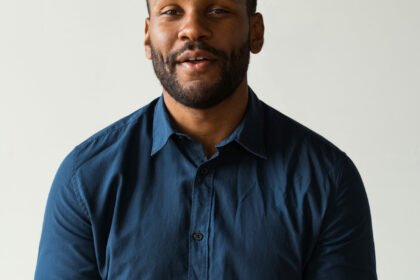 The Bright River We Keep

Outside Homer, Louisiana (1927)
For Hattie Mae
The broken rhythm of potholes and worn paint points us south
along the long road
we wanted and traced but feared to
speed down; sun-beamed and heavy as
an old growth tree trunk uprooted floats
in loose parallels down
the bright river we keep
glimpsing behind aisles
of slender forest and ever-hills. Nowhere's our everywhere. Juniper
wood slices past us as we go. Shrewd and unabashed angles
take turns working the mud grass shore. I remind me to breathe. I don't
know when to touch you or myself
so I keep my hand
against my face—What does carefulness do to love?
Where are courage and loss taking
us, and do I have a choice? What's chasing
us—I know, I've known. A chance of sirens ambles over
the slow blue bend of this time, touches
horizon haze in front of us. Heat gambles
sweat down my spine as we cross
brittle railroad tracks. Getting farther, so getting closer.
Up ahead: the sign I didn't know
we needed clinks and hums. I hear and I believe
an old engine turning and rolling
its metal realm closer
and closer to us. Red dirt tests my lungs. I trust
the sunset light on the far side of my closed eyes. Let me
go now, pull over. You can go.
The idea of water
waves filled her first thought
the wildness of falling
down and through
on her way as she felled
his every burning tree
until his very stillness
stopped into bloom
after bloom of rain
on skin on night
on wind poured quick
into smoke and nearby light
until the looking
that was the working
grew sentenceless
each phrase and fragment
a fragrance escaping, no—
a human scent, its
laws of sweat and love
and fear whispering the air
careening into
heavy droplets
flooded open
then leaving
a cavern kindness
suddenly our own
grown crimson with
evening then
oceanic after blue
Note: The phrase "cavern kindness" is borrowed from Gwendolyn Brooks' poem "A Lovely Love."