dezireé a. brown (they/he) is a Black queer nonbinary Pushcart Prize-nominated poet, scholar, and sjw, born and raised in Flint, MI. They are the winner of the Betty Stuart Smith Award from the University of Illinois in Chicago, where they are currently a Ph.D. candidate in the Department of English. They were a Quarterfinalist in the 5th Annual Screencraft Screenwriting Fellowship, often claiming to have been born with a poem written across their chest. Their work has appeared or is forthcoming in Cream City Review, Hobart, Cartridge Lit, beestung magazine, and the anthology A Garden of Black Joy: Global Poetry from the Edges of Liberation and Living, among others.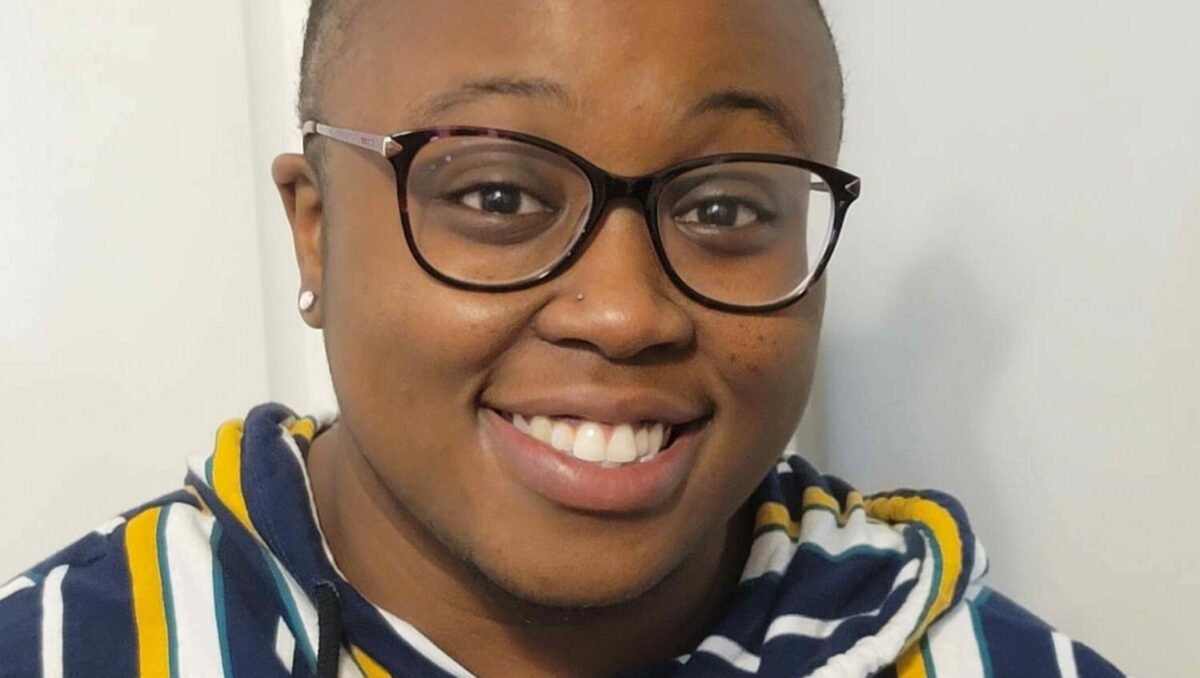 I Love What My Eyes Have Laid Sight On

after Angela Bassett
You: a gust
of fresh winter air / a fountain of eternal / life
an overflowing garden of lavender that never fails / to bloom
You: survival / reincarnated a wellspring / who communes nightly /
with chameleons for nourishment who built shelter with clay
and a dull / knife who carved / family
from a block of ruined / ice
You: a poet / again who found the words
they needed / on the underside of Hathor's throne
preening between two pillars of purple clouds
You see / god in the looking glass you stare into
the [cis] eyes / of the world
with the moon in your back / pocket
you a column / of light
orange glowing full / of topaz maps blessed by stars
reverse supper.


Your brother turns off the cartoon for your nieces
and removes the collard greens from his plate. The warm palm
on your thigh, your wife's immediate shield, returns to the table.
One uncle laughs about the rising cost of synthetic oil changes. Your
rose-colored aunt does not. Panic unnestles itself from your bruised
heart, hidden beneath the dark brown binder. Your family diverts their eyes
from the man in your face and turns attentively to the head of the table.
Your mother, dressed in her warmest pajamas, extinguishes the fire
in the corners of her eyes and places the matches back into her mouth.
You unwrap yourself from each hug, every grandparent and cousin,
even the ones you haven't seen since you first learned to write. The air
returns to a crisp blue. You and your wife get back into the car
and drive with the sun stretched across the dashboard. You return
to the couch, damp head in her lap. Your phone begins to ring.
Almost Every Book of Poetry Has a Poem about Horses


But too many are already
Matted hair, blue teeth, severed
Or it has been years since they slept
Let this poem be the calling.


dead. Emaciated.
from Bastet's blessing.
with another under the moon.
A celestial spell. Let it bring our siblings
[Jasmine Mack]
[Destiny Howard]
[Banko Brown]
[Cashay Henderson]
[Tasiyah Woodland]
[Koko Da Doll]
[Ashley Burton]

back from the dead. Let us
safe from silver bullets, and
together: unravel this thin thread
armor ‒ ancient weapons cut
They are not a metaphor
coastline, sink our knees into bitter
touch and share the same sweet
and trace our names in sand

meet in a meadow underwater,
raise our yellowed voice[s]
of gender and ready our steel-plate
from bone. These horses are not corpses.
for death. We will gallop toward emerald
water, reach out until our nostrils
air. Together, we will count breaths
left behind by the gods.