TWO POEMS by Yuki Jackson
/
Friday, 14 August 2020
/
Published in
Issue 18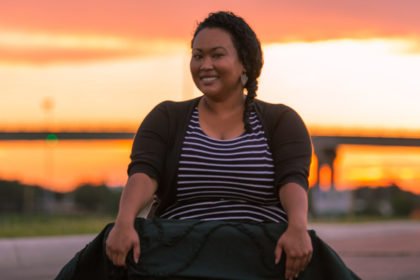 ---
BLACK GRANDDAUGHTER CALLS JAPANESE GRANDMOTHER

I hold the phone
and my hand shakes.
I ask her why is it I'm not invited.
She has no answer.
I'm too black to be shown.
I knew before I asked her.
I knew she didn't want to show me to her neighbors.

Now hear the dial tone.
My mother danced to soul
under the light of a disco ball
and never returned to
kneel on a bamboo floor.
---
THE HOTTENTOT VENUS CAKE IN SWEDEN
The room is full of white people in a cold place.

A government sponsored event.

They smile and use a knife to cut her open,
a life-size thick black female body
with an African bug a boo face.

They plate pieces of her,
lick her black icing skin,
fork to their lips, saying mmm, delicious.

Her inner flesh is red, perhaps red velvet,
classic American southern favorite.

A black male Sambo artist
created the installation.
With each hack,
the artist would cry for effect.

One white man's hands shake
as he cut his piece away,
ashamed.
Why did he do it?

The prime minister cuts the clitoris of Hottentot Venus.
A white woman whispers in the black man's ear,
your life will be better after this.