Alexandra Teague is the author of three books of poetry—Or What We'll Call Desire (Persea, 2019), The Wise and Foolish Builders, and Mortal Geography—and the novel The Principles Behind Flotation. She is also co-editor of Bullets into Bells: Poets & Citizens Respond to Gun Violence and Broadsided Press: Fifteen Years of Poetic and Artistic Collaboration. She is a professor at University of Idaho, where she co-directs the MFA program. Her poetry and essays have recently appeared or are forthcoming in Boulevard, River Teeth, Blackbird, and The Common, and Oregon State University Press will publish her memoir in essays in 2023.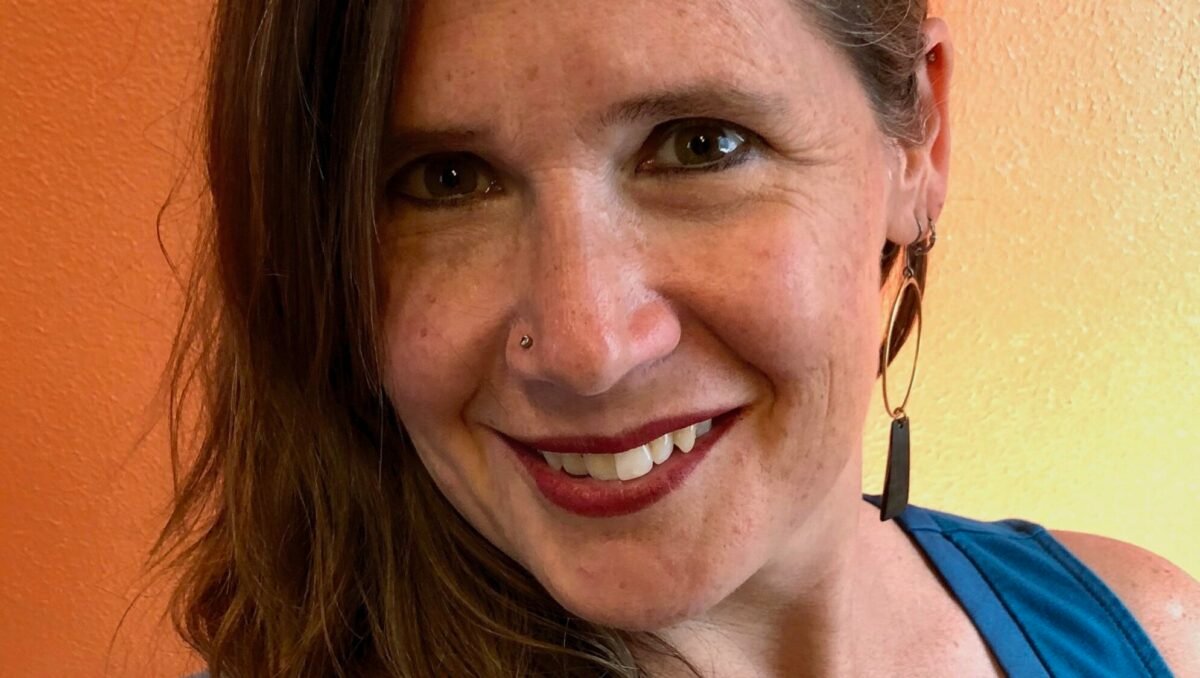 The Rough Beast Would Like The Future To Be Clear
That he is made of the past like a junk shop
with split-frame washboards
and dolls with crazed, crazy eyes: some composite
that doesn't age well. Like human history. Some experimental glue
and plastic and silicon carbide known to be
flammable and cause cancer
in the state of California (how dangerous everything is
if we read the dangly little tags). That he is tagless
and lethal as any living thing. Made
of single-use bicycle tires and animal cookies
with ice-rinky icing and nose bleeds
from the first few weeks of antidepressants, a dark joke
turned inside out. A bad surprise party. That he is made
like all of us of darkness and inopportune floodlights, of falling
from frying pans to fires and back again.
That he is our brain that is an egg that is
sizzling in that 1980s anti-drug ad
that forgot how few people eat raw eggs
and how much we want to escape ourselves. He is our brain
that's like that Simon game with its flashing
lights in patterns repeating repeating: red blue green
blue blue red, like a random emergency.
That he is us trying to get the pattern right.
That he's a myth to tell us why we never do, why we lose
every person, our sanity, much
kindness. Why every generation someone shouts, My mind's
not right, and people nod and sing along, stuck between future
and finity: a word we use less often than its opposite
because we live in it. Its one-way-exit box.
That he is made of it too: whatever we've ever been made of. Electric
kettles on the fritz, color-coded file
drawers and brain scans and a thousand
lost pencils. The distance between where we're going
and always are: flashing pop-up ads, horoscopes, horror,
red wheelbarrows repurposed as junk-store planters
because so much depends on
feeling as if something depends on us. That he is
inside whatever fur we imagine him, an inside
joke like all of us. I guess you had to be there. That we say this
when we can't remember what was funny either. That he's less
mythology, more mothball, like the Goodwill sweater
we try on saying Someone made this for me,
though we know whoever made it
never knew there was an us at all.


The People At the Bottom of the Lake Write Up

We were convinced by the man who said
think of how beautiful the fish will be, like stars, rippled into daylight
constellations; how beautiful the stars will be when they appear
to be swimming. Or we saw the Hubble Telescope's cosmic gemstones
sent back from the future, and read the scientists who said
it is good for the mind to feel small inside vastness. Think of the water
as a galaxy, a word that came from milk, pouring closer. Think
of the stars strung like lures on invisible string with strange blue
feathers. The scientists say we forget who we really are inside our walls.
We need the water to rearrange us; we were trying to give our bodies
like ripples to what came for us: someone like the Piper of Hamelin
who promised our children (forgive us) the music of motorboats.
We sent them swimming after him; we sent them their lunchboxes
dented as meteors. Or we read about a sky-blue plate that was all a king
would eat from; no one could say why the glaze turned out that way;
the ceramicists tried everything. In the legend: the answer is a riddle
of bird bones. The answer: a ceramicist despairs and throws himself
into the flames. We were trying to recreate an accident of beauty. We were
trying to eat from the color of what could be. No one told us
water is heavier than everything; it is a peacock with a hundred-thousand
eyes and wings. We were convinced by the man who said we'd fish
upside down and hook the soft white bellied stars, their skittish
flickering. How could we know we'd drown in what we were?