We're happy to announce three new additions to our team! We're excited to have them, and they look forward to reading your work.
K.K. Fox (Assistant Fiction Editor) received her MFA from the University of Memphis. While in Memphis, she served as managing editor for the literary journal River City, now called The Pinch. Her short stories have appeared in publications including Tupelo Quarterly, The Adirondack Review, and Memphis Magazine, among others. She currently lives in Nashville, Tennessee and teaches writing for Volunteer State Community College.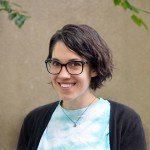 Lauren Miner (Assistant Poetry Editor) earned an MFA in creative writing and an MA in English from Virginia Commonwealth University, where she served as a page builder and assistant production editor for copyediting at Blackbird.
Hananah Zaheer  (Assistant Fiction Editor) is a connoisseur of bad coffee, an avid student of people, and a collector of books.  She is originally from Pakistan, and then from North Carolina, and most recently from Dubai where she splits her time between writing stories, reading stories, and when none of those are happening, acting out stories on stage.